The Albanian Riviera. One of Europe's best-kept secrets – unless you're Italian, in which case you've probably been enjoying the azure waters and cheap-as-chips seafood for years.
For everyone else though, it's relatively unknown. In part that's because Albania's only international airport is 290km away in Tirana. From there, it's a five-hour drive along windy roads to Sarandë, the Albanian Riviera's unofficial capital, so most opt for the ferry from nearby Corfu. Pick the fast service and you'll get to Sarandë port in just 35 minutes, while the regular ferry takes around an hour. There's talk of building a new airport in Sarandë – if so, it's hard to picture this 50 miles of coast staying undiscovered for long.
Picture a coastline as dramatic as any that Italy has to offer, but without the price tag. (Not being in the EU, you'll be spending Albanian lek, although most places will also accept euros.) "Bregu", the local slang for this stretch of southern Albania, starts at the 1,000 metre-high Llogara Pass and traces a line through coastal villages and towns until it reaches the Unesco World Heritage Site of Butrint.
Theresa Harold ditches the Italian Riviera for the shots and seafood platters of the Albanian coast
Nearly 30 years have passed since Albania opened its borders to visitors in 1992, after decades of communist rule. In the rush to capitalise on its coastal region, the vast majority of beaches were privatised, and you'll usually pay the beachfront restaurant around 700 lek for the use of a sun lounger and parasol for the day.  A decade ago, this was true backpacker territory. Where once your accommodation options were limited to a beach hut or someone's house, nowadays independent hotels, Airbnbs, and holiday homes line the shores.
The visitors arrive here to find ancient castles, clifftop monasteries and sandy beaches. There are still seaside canyons, Mediterranean villages and olive groves.
Another thing those backpackers of decades ago will recognise is the food. Cheap, fresh and locally sourced, the cuisine here is simple and reflects both the Mediterranean location and the austere years of communism. You won't find fancy ingredients or haute cuisine cooking techniques. Pizza is plentiful, thanks to the influx of Italian tourists, and they do gyros, tzatziki and Greek salad everywhere. The chefs use olive oil the way the French use butter, and every meal comes with a basket of bread to soak it up. Don't be afraid to carb-load though: you'll need it for all the raki you'll be drinking.
Here are five essential foodie experiences on the Albanian Riviera.
Drink shots for breakfast
Albania is famous for its hospitality, thanks to the cultural concept of besa (loosely translated as "faith"). On our first morning, our hosts at Ksamil's Ionian Luxury Apartments invite us to join them for breakfast on the balcony. Among the golden triangles of byrek mi spinaq (a savoury spinach and cheese pie made with filo pastry) and glasses of ayran (a salty yoghurt drink), sit two shot glasses filled with a clear liquid and a single chip of ice. This, it turns out, is the famous Albanian spirit: raki. Made by our host's mother-in-law, the grape-based drink packs a distinct aniseed flavour and enough of a kick that I no longer need my coffee.
Go on a mussel tour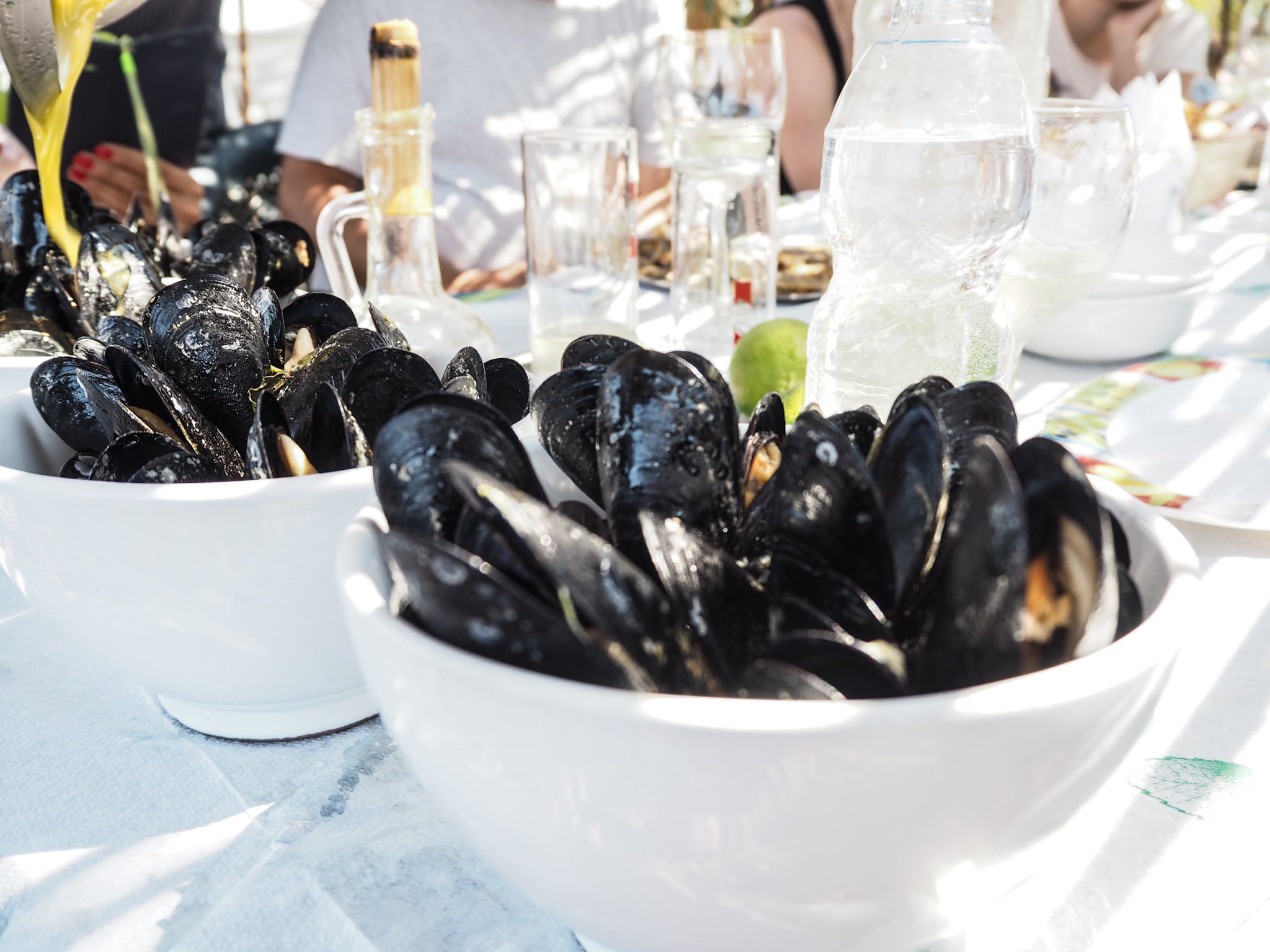 Now in its fourth year of running, the Mussel Tour on Lake Butrint started as a way to show local farmers that they could profit from their enterprise by marketing it as a tourist product (as well as selling to local restaurants). The Butrint lagoon is the main source of mussels in Albania, and mussels bearing the Butrint stamp used to be a prized export. At its peak, Butrint produced 5,000 tons of mussels per year, but this nosedived in the 1990s due to an outbreak of cholera and the subsequent EU ban on the export of mussels.
This two-and-a-half-hour tour starts with our guide taking us out on a handmade boat to the mussel beds in the middle of the lake. Donning thick gloves, we collect and clean our own rope of mussels before heading to a secluded beach for lunch. There, we enjoy a lunch of fried fish, homemade bread, a jug of chilled local white wine and our freshly-harvested mussels. The mussel season is only during the summer, and in the off-season there's an equally good tour of the local mandarin groves instead.
Visit a winery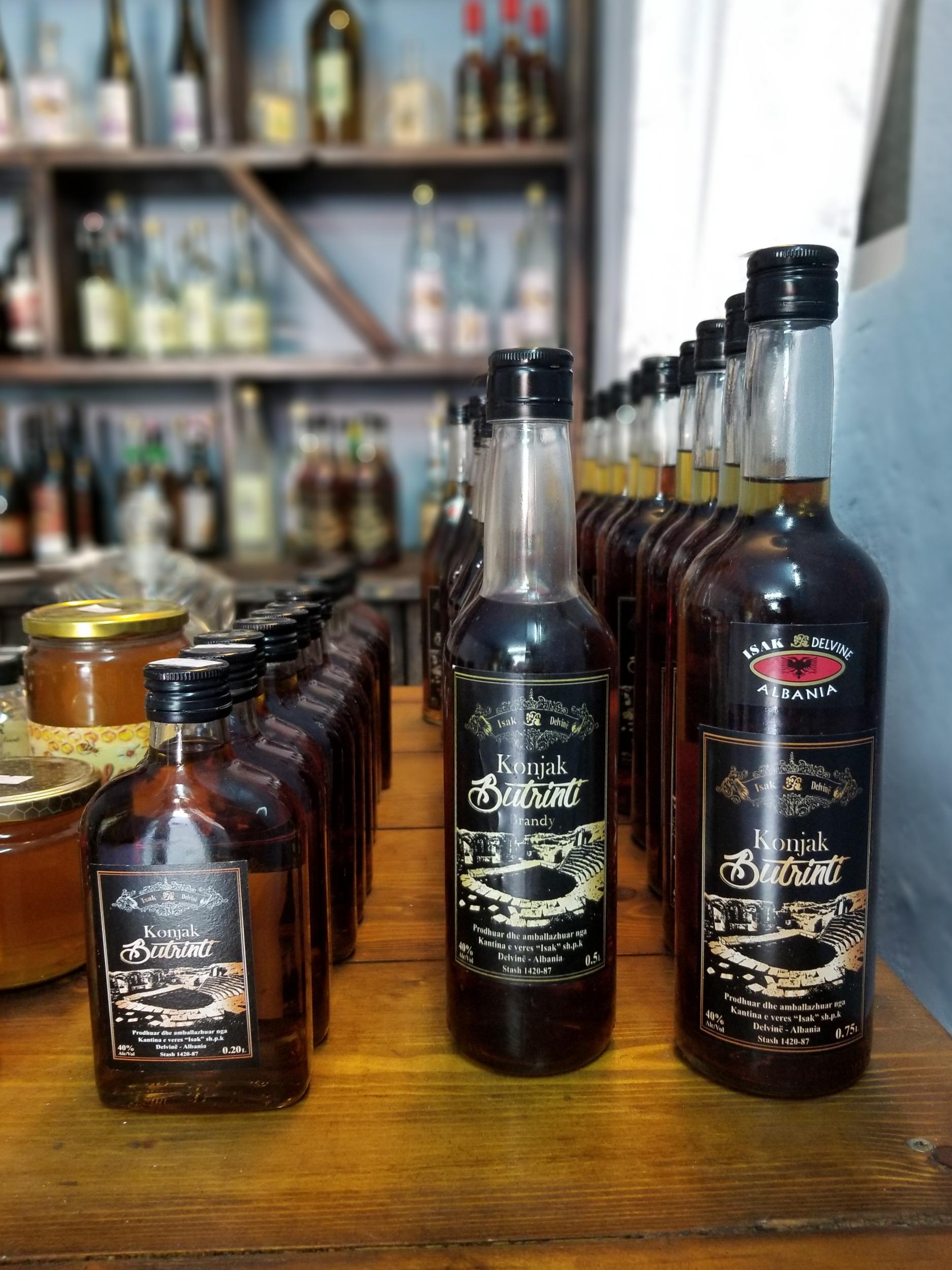 Albania is one of the oldest wine-producing countries in Europe, although years of communism saw its wine industry deteriorate under forced collectivisation. Today, Albanian wine is undergoing something of a renaissance, with a new generation of winemakers reviving heritage grapes.
While the area surrounding the Riviera is not known for its wine, we spot Kantina e Veres Isak on our way back from the Blue Eye spring. Located in Vrion, Sarandë, this small vineyard offers tours and tastings – but even if you drop in unannounced, they're more than happy to open up the bottle shop and pour you some generous samples. We leave with two bottles of red, two bottles of white, a cognac and a small raki for the equivalent of £15.
Eat freshly fried petulla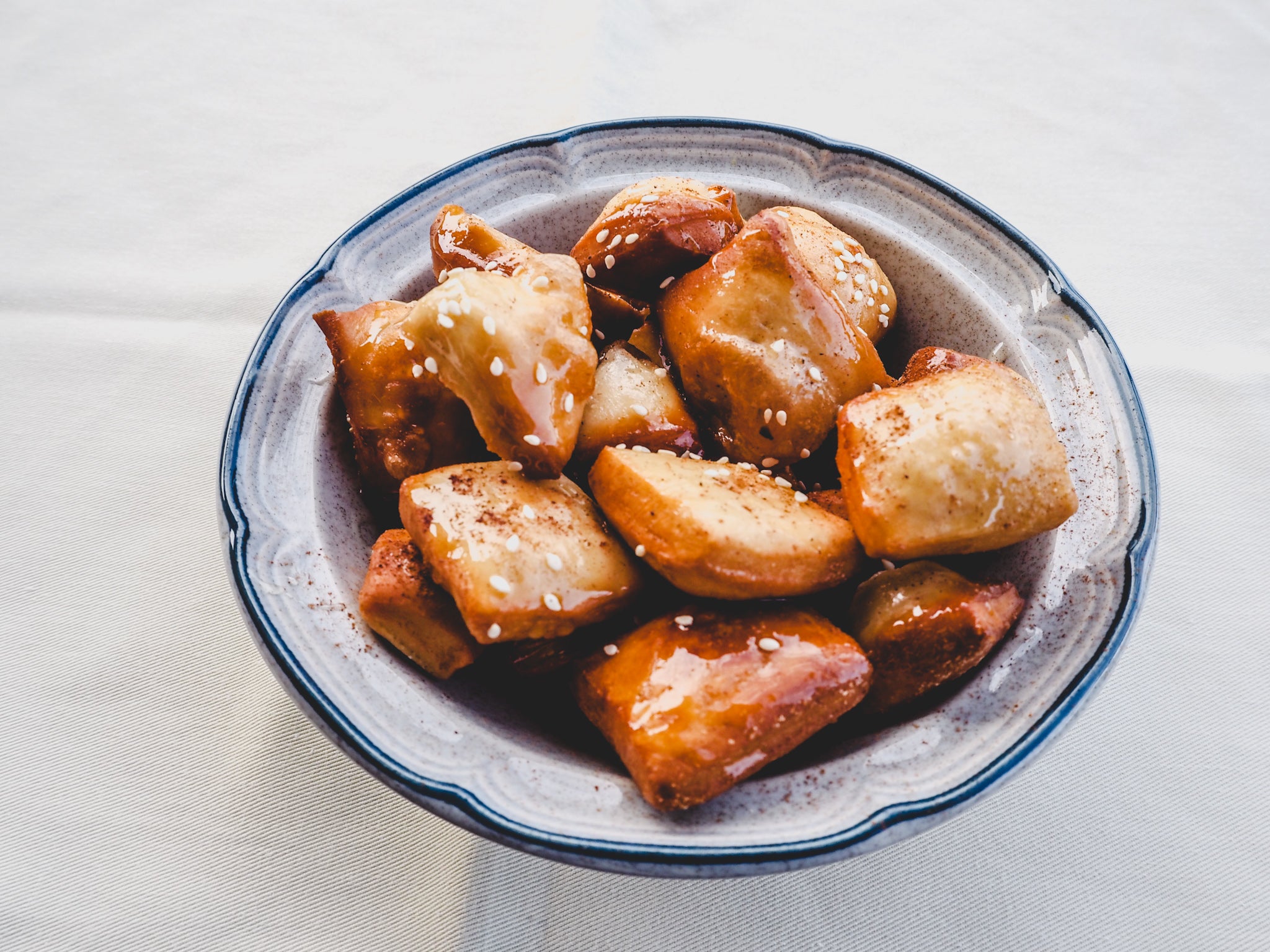 It seems like every culture has its own take on fried dough, and Albania is no different. Known as petulla, these traditional Albanian treats can be eaten with feta, sugar, honey or cinnamon. Generally, these are made at home but a few bakeries also make them, or look out for enterprising locals selling them on the beach. We scoff ours while they're still warm and dusted with icing sugar, cinnamon and a glaze of honey. Typically eaten for breakfast, these moreish fritters pair nicely with Albanians' other favourite morning drink: coffee (either espresso or Turkish).
Always order the seafood platter
From beachfront shacks to more upscale eateries, the Riviera's dining scene focuses on seafood and it's as reasonably priced as you'd hope. At one restaurant, we even get to choose our own fish for lunch. As for freshness, the mussel farms and fisheries on Lake Butrint are a five-minute drive from Ksamil – barely enough time to earn any food miles.
While The Mussel House has all the aesthetic advantages of being located on Lake Butrint, it is the seafood at Fourth Island on the main street in Ksamil that stands out. Served with salted potatoes and salad, its octopus is seared just enough to leave a "bounce" in the mouth. It's hard to go wrong with seafood this fresh. At Guvat, its seafood platter is big enough for two hungry people and highlights include chunks of squid and succulent grilled prawns. On the more cheap-and-cheerful end of the scale, family-run Afrimi is also well worth a visit.
There's no secret recipe that makes the seafood here so memorable. It's salt, olive oil and lemon juice over an open flame. But the Albanian Riviera knows a thing or two about having all the right ingredients.
Essentials
Staying there
The Ionian Luxury Apartments in Ksamil are available to book via Airbnb.com
Getting there
Ryanair and easyJet fly to Corfu from the UK for about £80 return. A return ferry from Corfu to Sarandë starts from €38.